Gutter Cleaning & Whitening

Not Cleaning Your Gutters Can Cost You…
Nobody enjoys cleaning gutters. (Well actually we do a little, it's kind of cool to see the before and after).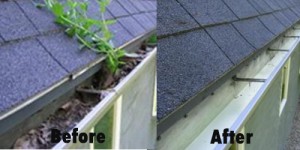 Your help is here. We are more then happy to clean out your gutters of leaves, dirt, small trees, etc and check and unclog the downspouts too.
Most people don't realize that clogged gutters can end up costing you thousands of dollars. Gutter rot is expensive. What happens is the gutter overflows and rots the boards holding them onto the house. These two articles say it better then we ever could.
Check them out and give us a call to keep your gutters clean.
You'd be surprised at all of the stuff we find in gutters.
Gutter guards and gutter screens simply don't work. They get clogged too!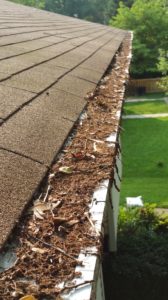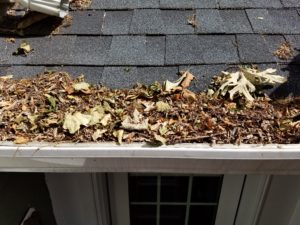 If you decide to clean your own gutters please be careful. The number one cause of death and injury for homeowners is fall from ladders.
Gutter Whitening
  (Or like we like to call it "Whoa my Gutters look good!")
A normal house wash will not remove the black streaks and baked in dirt that has eaten into the face of your gutters making them look bad. A special treatment is needed, along with a lot of elbow grease.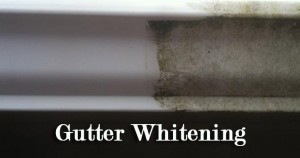 Your best bet is not to let them get too bad before you get them done.
There does come a point where the streaks can be lightened significantly but will still slightly show because of how deeply they have baked in. Most of the time we get them looking like brand new. It's rare that we can't.
Getting your gutters whitened and cleaned on the outside really can help with curb appeal if you are trying to sell your home, or just impress the in-laws.